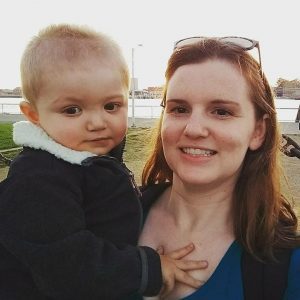 Hi there, I'm Liz and this is my son, Joe. He was born in 2015 with heterotaxy syndrome and severe heart defects, which completely turned our world upside down. But he's also inspired me to live more purposefully and with a whole lot more heart (I blog occasionally about our experiences here).
His medical condition and frequent hospitalizations have made it impossible for me to return to work outside of the home, so I've spent a LOT of time trying to figure out an online business that I can do from home.
My first WAHM breakthrough was in Pinterest affiliate marketing. I've driven hundreds of sales to date just through Pinterest alone - it's an incredibly powerful platform and I feel like I'm just scratching the surface on its potential!
The most successful products on Pinterest - BY FAR - have come from Etsy. It makes me very happy to know that I've helped generate sales for small businesses and artisans, and that's what I want to focus on going forward.
Since Etsy doesn't allow Pinterest affiliate links anymore, I decided to create this blog so I that can keep showing off all of the fabulous handmade finds I come across. It's also a space for original designs and artwork from Print on Demand shops (e.g. Society6).
I'll also be sharing strategies for marketing your own products on Pinterest and beyond, so that you can focus on pouring your heart and soul into your work.