This post may contain affiliate links. For more information, please visit our disclosure policy.
Wooden toys are making a major comeback, and it's not hard to see why. They make an attractive addition to any playroom or nursery, they encourage open-ended imaginative play, and they're nearly indestructible!
Plus, of course, there's no batteries to replace in wooden toys. And they don't make annoying sounds that become downright terrifying when the cat somehow activates a toy in the middle of the night. Ask me how I know about that one...
Handmade Wooden Toys from Etsy
The huge selection on Etsy also makes it easy to buy handmade wooden toys, from around the world even. There's a little bit of everything there, from Montessori- and Waldorf-inspired toys to baby gyms to personalized puzzles.
I was actually a little overwhelmed by all of the options and niches, but I managed to round up ten of my overall favorite finds. They would make such lovely baby shower, holiday, or birthday gifts!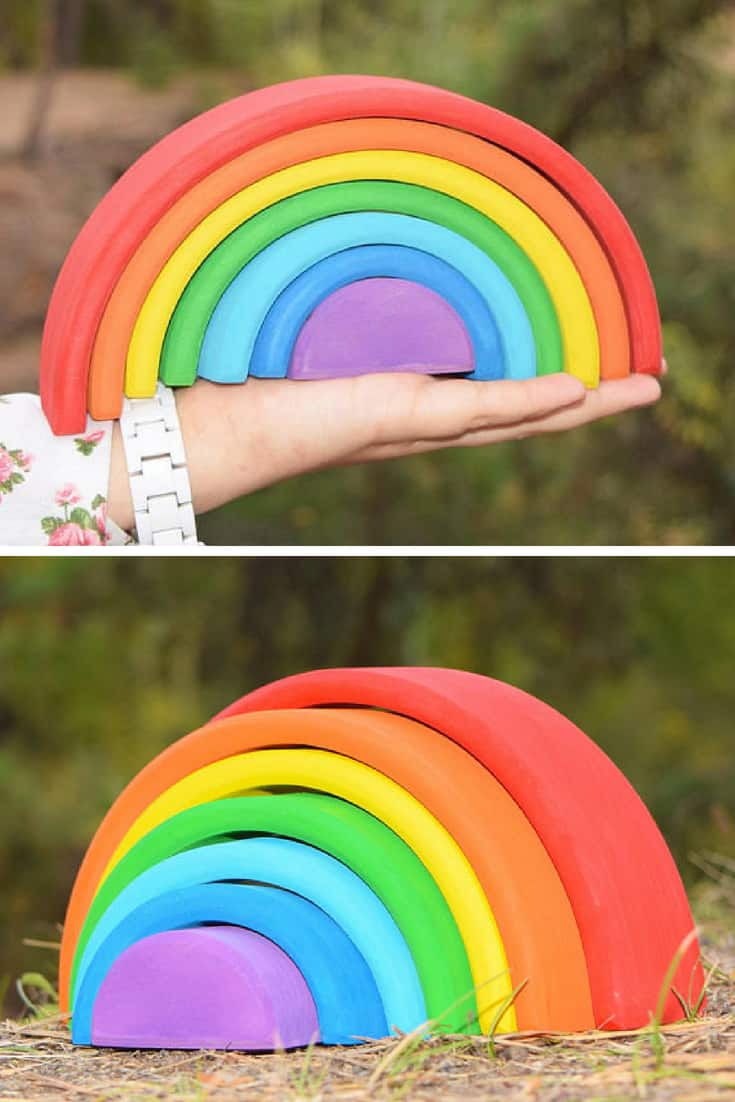 1. // RAINBOW STACKER // This eye-catching set comes from the Moscow, Russia-based @MyBigLittleDreams. There are a few color options, including a pastel version and unfinished wood, but the classic bright rainbow is my favorite.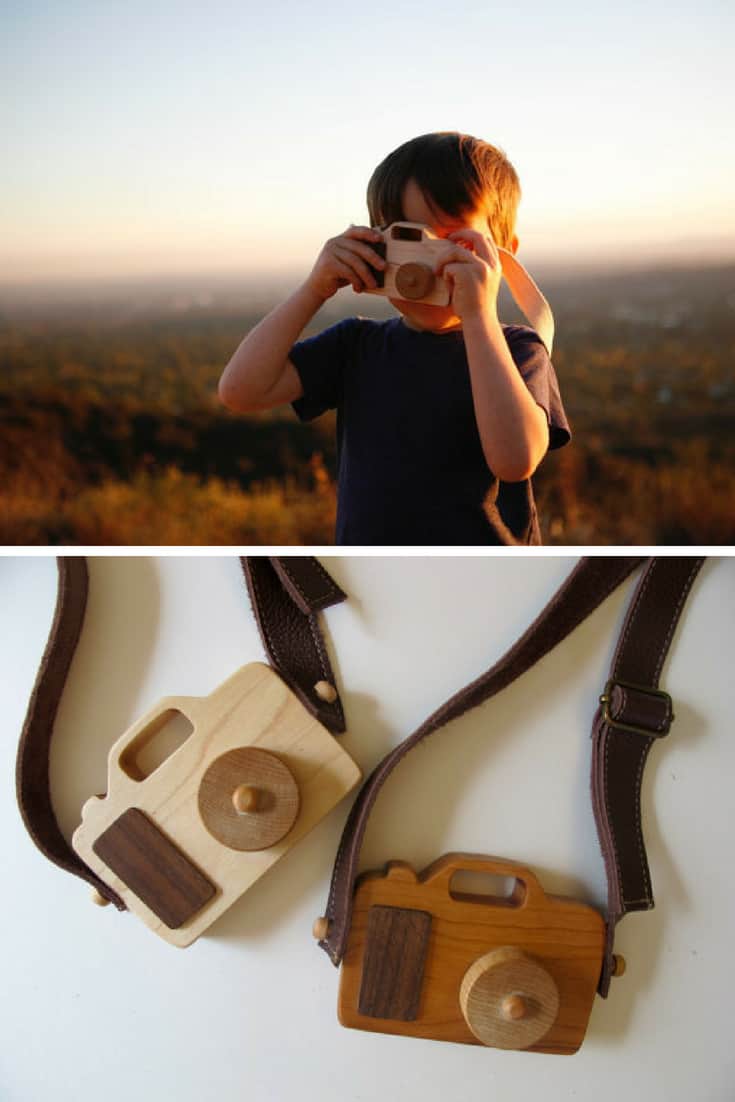 2. // WOODEN TOY CAMERA // Each item is designed, handcrafted, and packaged in the Indianapolis, Indiana workshop of @FactAndFictionToys. I like the realistic details of a movable lens and option for a leather strap.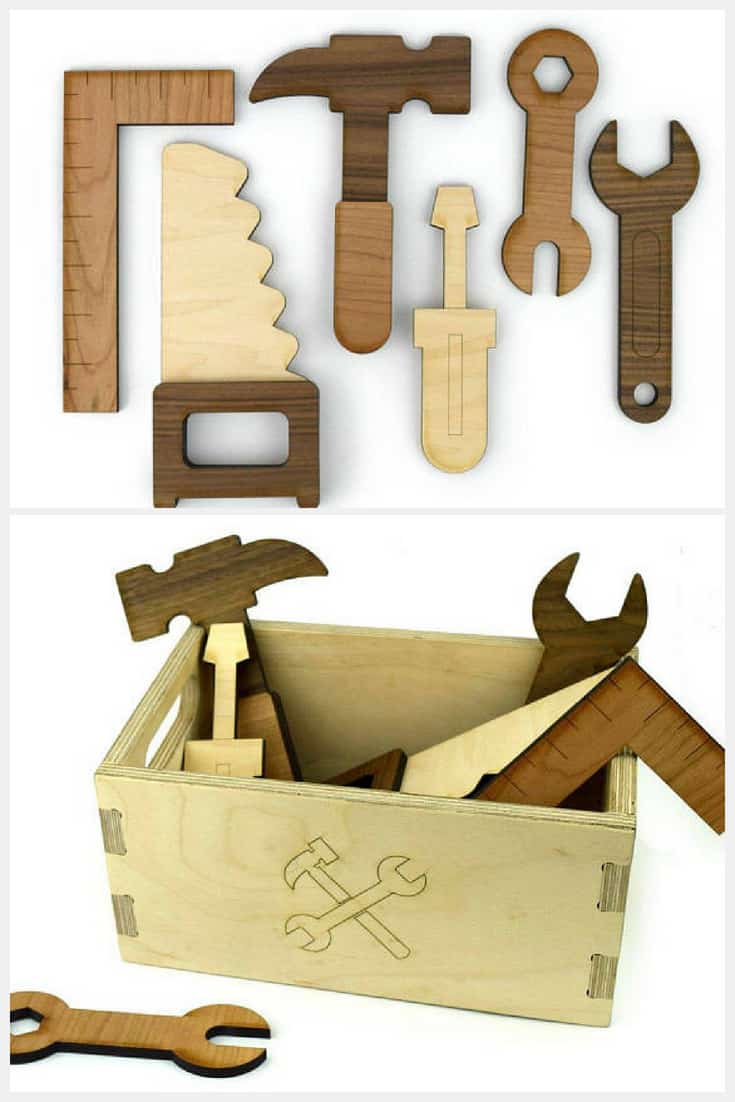 3. // WOODEN TOOL SET // I think every kid should have a toy tool set, and this set from the aptly-named @LittleSaplingToys from Orem, Utah would be perfect. A tool box can also be added for an additional cost. And a tree is planted for every purchase made -- how cool is that?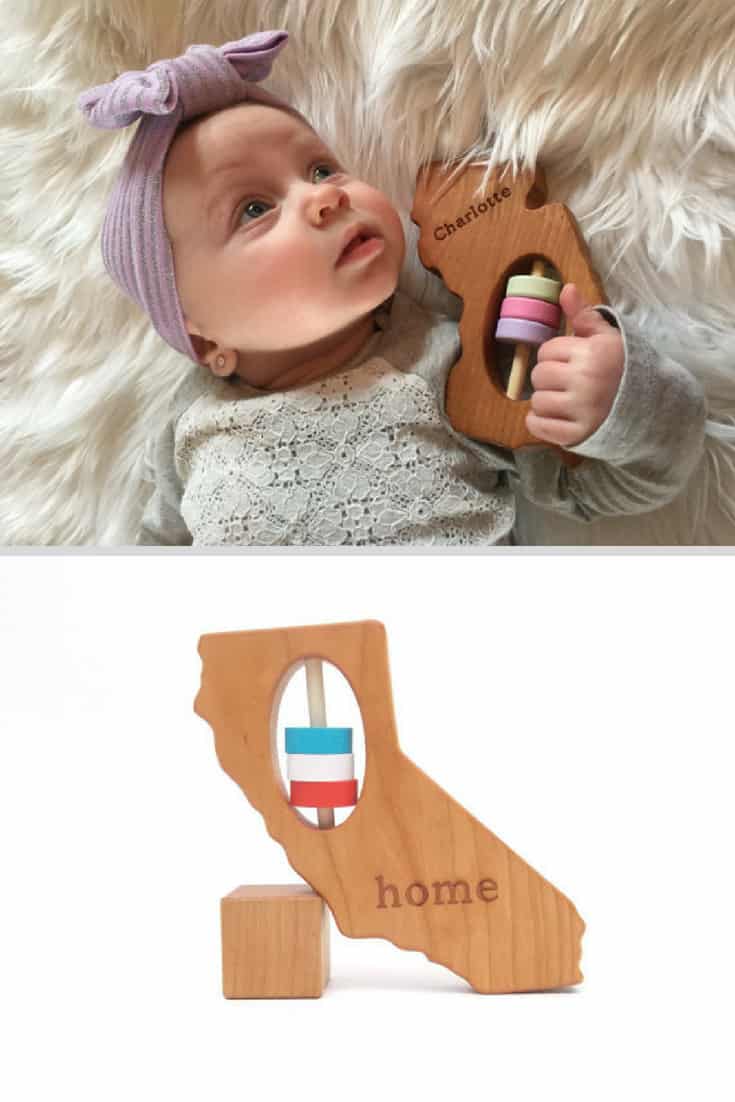 4. // STATE WOODEN BABY RATTLE TEETHER  // @BannorToys from Madrid, Iowa boasts a pretty impressive selection, but I was especially drawn to the line of rattles shaped like states. They offer a bunch of personalization options for the rattles and make for some adorable photo ops!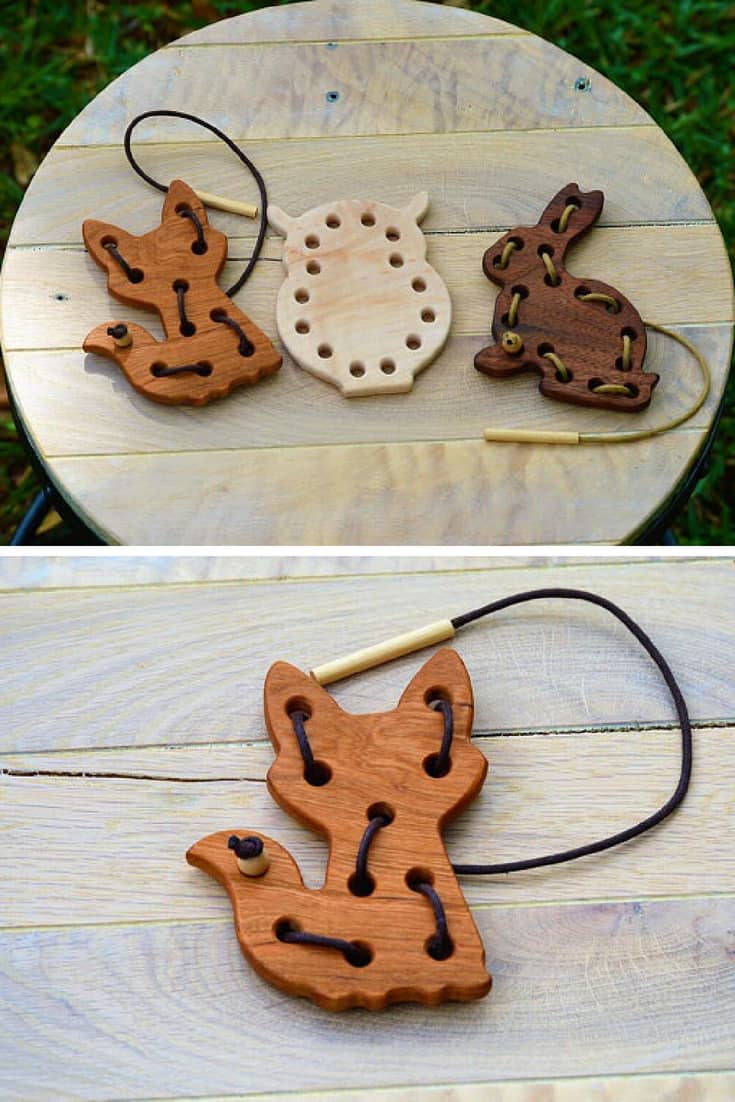 5. // WOODLAND ANIMAL LACING CARDS // A great way to practice fine motor skills, these lacing cards can be purchased separately or in a set. By @TimberWolfConcepts (Englewood, Florida).
More Handmade Wooden Toys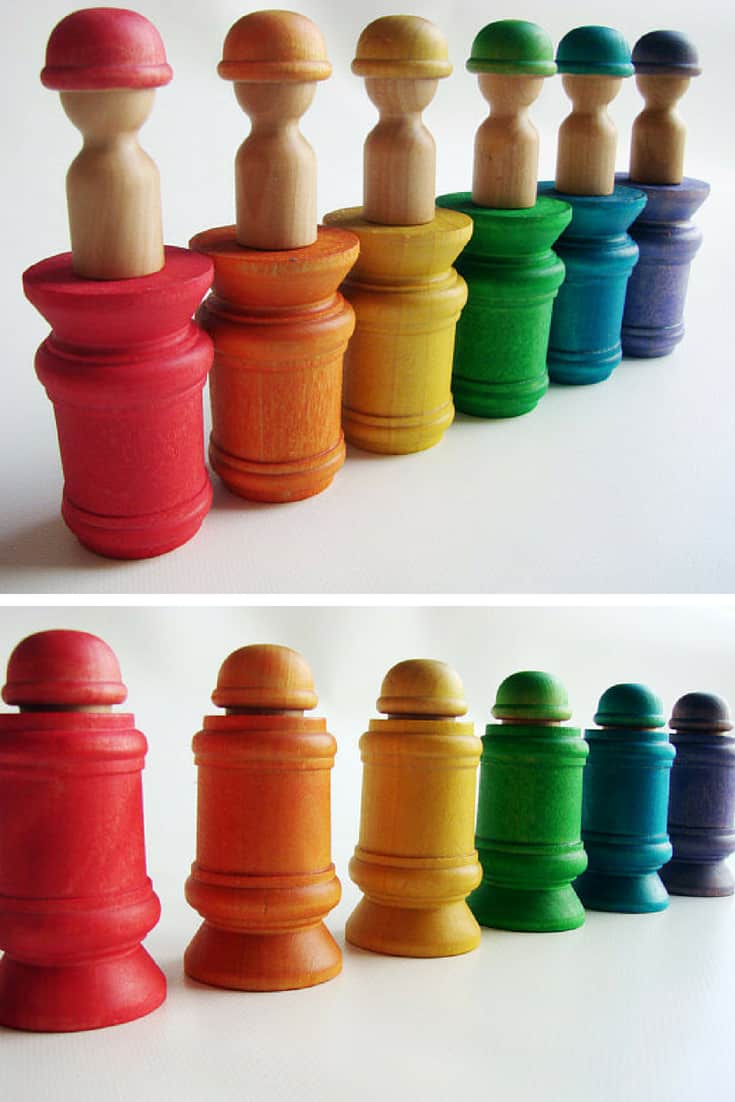 6. // RAINBOW HIDE AND SEEK NEIGHBORHOOD PLAYSET // This set comes from @MamaMayI, a shop out of Philadelphia that makes eco-friendly wooden toys inspired by Montessori and Waldorf teaching methodologies.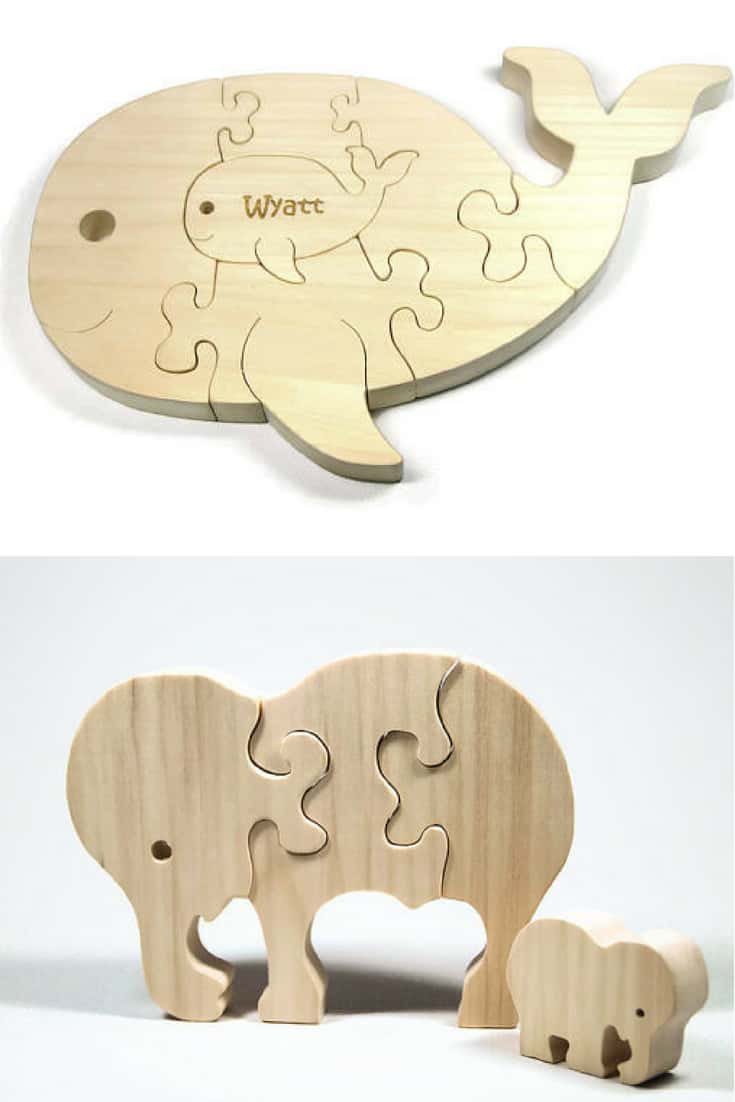 7. // PERSONALIZED WOODEN PUZZLES // These puzzles are so sweet with the mama and her baby, and they'd make a lovely baby shower gift. From @littlewoodentoys out of Chanhassen, Minnesota.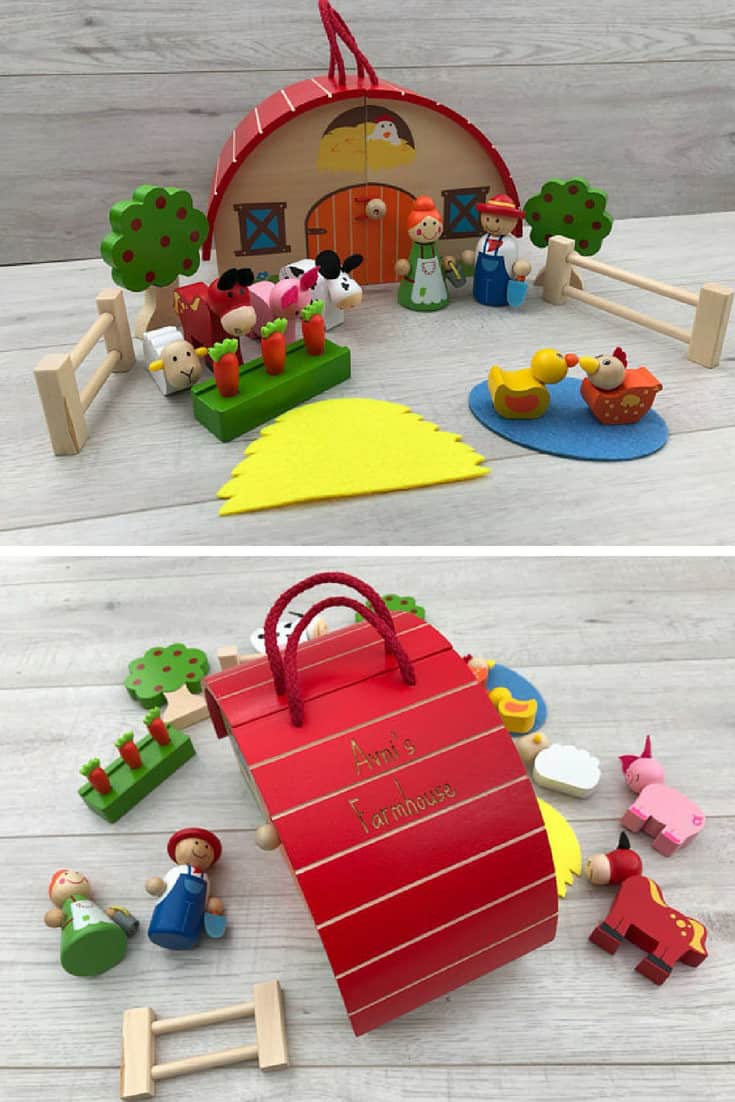 8. // ENGRAVED FARM HOUSE SET // Farms are such a timeless toy -- I don't know a single kid who doesn't like to play with farm animals! This wooden farm house set can be engraved with the child's name and it acts as a carrying case that fits all of the included pieces inside. Made in the United Kingdom by @DarklingDesigns10.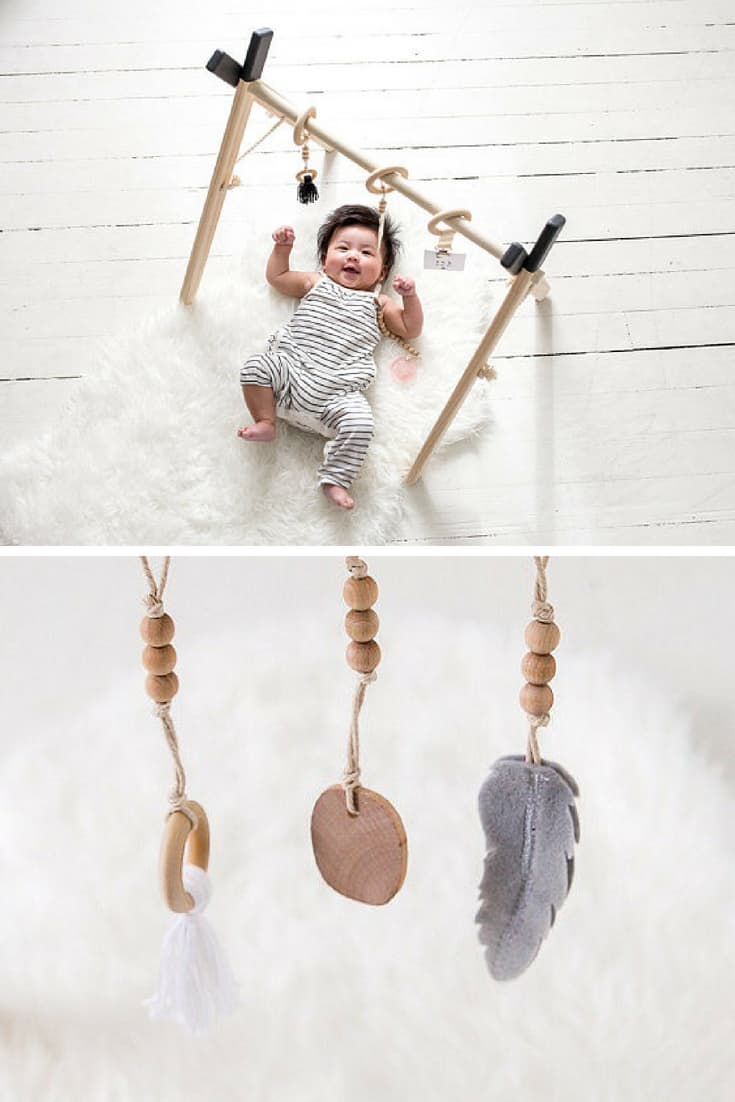 9. // BABY ACTIVITY GYM // These baby gyms from @CloverandBirch are incredible. Such a beautiful, modern design -- and the gyms fold flat for easy under-bed storage. Made in Atlanta, Georgia.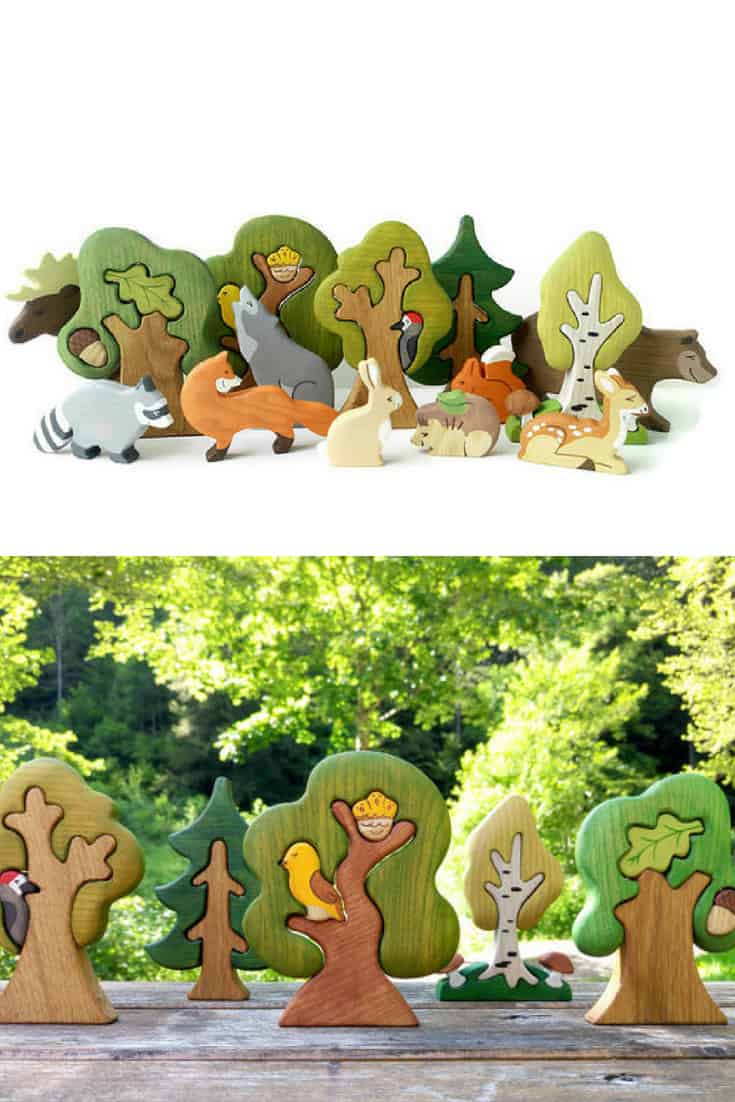 10. // FOREST ANIMALS WOODEN SET // Another piece crafted in Moscow, Russia, this detailed play set contains a variety of forest animals and trees. From @WoodenCaterpillar.
Pin it for later: